It's A Blues Night At The Lyric That You Won't Want To Miss! The Clayton Miller Band - Live!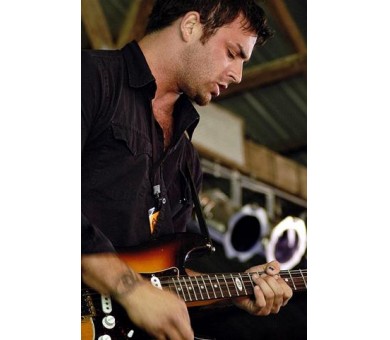 Miller Brothers Cole and 13 year old L.D. placed 2nd on the hit show "America's Got Talent" in 2006. 13 year old L.D. has been called the #1 harmonica player on the planet.

The Millers have appeared on "The Today Show," "The Tonight Show," "Ellen," and more!

They have played or recorded with Stevie Wonder, Alicia Keys, Buddy Guy, B.B. King, Joss Stone, Ziggy Marley, Ringo Starr and many more!
Typically, there are a lot of things families do together. But with the exception of the Jacksons, Hanson and the Osmonds, few families have a successful band together. But as Don Seybold of Purdue University coined introducing them, "this ain't the Osmonds, baby".

This is a family that sings the blues together and had shared the stage with Kenny Wayne Shepherd, Mississippi Heat, Buddy Guy, B.B. King, James Cotton, Walter Trout, The Nighthawks, Urge and Ricky Skaggs all before the oldest brother's 19th birthday.

But while audiences are amazed by the novelty of a band that consists of Dad Larry on bass, brothers Clayton on guitar and vocals, Cole on drums and vocals and L.D., just 13, wailing on the harmonica, they come away captivated by musical chops that any blues musician of any age would be proud of.

Clayton's guitar playing has been compared to the early genius of Hendrix and Stevie Ray Vaughan and his vocal maturity is well beyond his years. Cole's drumsticks are a natural extension of him and his vocals are already developing an old blues man's power and passion. LD's harmonica skills have amazed the best in the business and on his own he's been invited to sit in with some of Blues' biggest names.

The charm and allure of a young family band certainly packs the house at colleges, clubs and festivals, but innate talent, hard work and rocking crazy musicianship brings audiences to their feet dancing and applauding.

This is a band that was "born" not made, and while they have been together all their lives, they moved beyond the singing around the campfire stage in 1999, when Clayton left his alternative band he had been fronting since the age of 15 and took up the family passion for the Blues. In less than a year, they were playing throughout the Midwest and had been asked to appear on no fewer than 10 TV shows and had features written on them in no fewer than 25 newspapers in Indiana and Illinois alone.

Playing music as a family is very unique in a sense, but having this level of talent all in one family is now garnering them world wide attention in the Blues world and beyond.

BUY YOUR TICKETS NOW FOR THE CLAYTON MILLER BAND - SATURDAY, AUGUST 4TH AT 7:00PM. TICKETS ARE ONLY $32 and $28.
Back to News