An Evening with Branford Marsalis
Proudly Sponsored by Mrs. Joan McGowan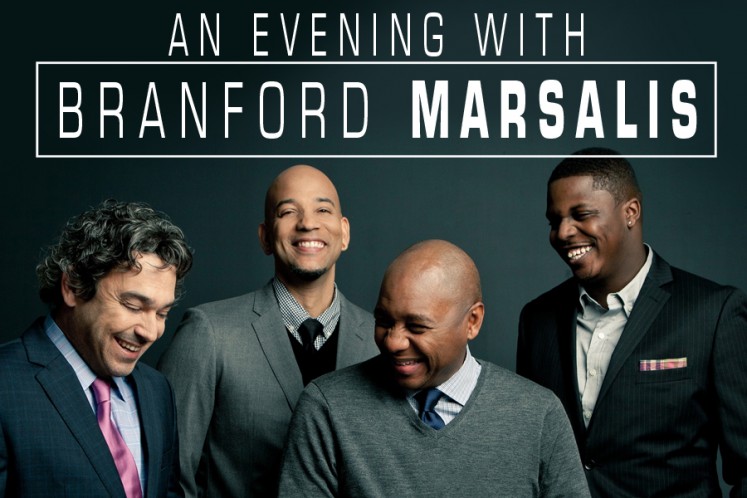 A revolutionary jazz musician and Grammy-award winning saxophonist, Branford Marsalis is in a league of his own. Marsalis' career stretches from his beginnings in New Orleans to his work with greats such as Miles Davis, Dizzy Gillespie, and Herbie Hancock to name a few. Cited as "arguably the most respected living U.S. jazz instrumentalist," Marsalis is an NEA Jazz Master and Tony-award nominee whose work as a musician, composer, band leader, and educator is unrivaled. At The Lyric Theatre this season, Branford Marsalis will play pieces from his extensive repertoire that ranges from Debussy to Villa-Lobos.

Branford Marsalis grew up in New Orleans, the eldest son of pianist and educator Ellis Marsalis and the brother of Wynton, Delfeayo, and Jason Marsalis. After picking up the clarinet at an early age, Branford experimented with a variety of different instruments, ultimately devoting himself to the soprano sax. Marsalis worked with trumpeter Clark Terry and with his brother Wynton in Art Blakey's Jazz Messengers while in college, eventually forming his own quartet in 1986. This quartet has continued to work with Branford Marsalis ever since, and has become one of the most widely respected groups in jazz. In December 2015, Marsalis and his quartet received a rare invitation to join Kurt Elling in a weekend performance at the New Orleans Snug Harbor. An incredible collaboration, Elling and the Marsalis quartet recorded their collaboration, which can be heard on the June 2016 release of Upward Spiral, a release that was nominated for a 2017 Grammy Award for Best Jazz Vocal Album.

In addition to his work with his quartet, Branford Marsalis is also an accomplished soloist with some of the best classical ensembles around the world. In addition to performing with such symphonies as the New York Philharmonic, Chicago, and Dusseldorf Symphonies, Marsalis recently performed his first solo concert at the San Francisco's Grace Cathedral, a performance that was documented on the 2014 recording In My Solitude. Branford Marsalis has also extended his talent to the Broadway stage, creating the original music for a revival of August Wilson's Fences, which received a Drama Desk Award for Outstanding Music in a Play as well as a Tony nomination for Best Original Score Written for the Theater. His screen credits include the original music for Mo' Better Blues and acting roles in School Daze and Throw Mama from the Train. Marsalis has also contributed his leadership skills to the Cincinnati Symphony as their Creative Director for the Ascent series in 2012-2013 and to the Tonight Show with Jay Leno, serving as Musical Director.

Dedicated to the continued development of jazz, Branford Marsalis has formed extended teaching relationships with universities such as Michigan State, San Francisco State and North Carolina Central Universities and has conducted workshops at locations all around the world. Branford formed the Marsalis Music label in 2002, which in addition to documenting Branford's music, highlights new stars like Miguel Zenón and long-time masters like Alvin Batiste.

The NEA Jazz Master's latest album, Four MFs Playin' Tunes, puts a complete focus on each individual song and its singularity, rather than the focus on the performer's individual talents. Always a selfless individual, Branford Marsalis worked along with musician and friend Harry Connick, Jr. and the New Orleans Habitat for Humanity to create The Musician's Village in the aftermath of Hurricane Katrina. The Musician's Village, a community in the Upper Ninth Ward that provides homes to displaced families and musicians, features the Ellis Marsalis Center for Music, containing state-of-the art educational and performance spaces. As reviewer Charles Gans from AP has stated, "Saxophonist Marsalis leads one of the most cohesive, intense small jazz ensembles on the scene today." Branford Marsalis' performance at The Lyric is a once-in-a-lifetime opportunity to see one of the most innovative jazz musicians of all time live, as he was meant to be seen.